Seeking "The Good News" in the News
If you turn on a TV, check your Facebook or Twitter feeds, or read a newspaper, it is hard to get good news. For every nice story, such as the ALS Ice Bucket Challenge social media sensation that has brought much awareness and raised much money to help in the fight against ALS, we are overwhelmed with a million and one stories about celebrities who are cheating on their spouses or in rehab for the umpteenth time or even worse, the fashion faux-pas they made with what they wore to a public outing. Meanwhile, thousands of Christians are being persecuted in the Middle East everyday, and there is less of an outrage over that than there is when someone's favorite TV Show gets cancelled or athlete gets traded to another team.
And on one hand, it is understandable. As humans, we don't desire conflict and we'd rather feel safe and sound than face the evils outside our door in the world around us. If you can avoid persecution, than why not avoid it? Life is stressful for most everybody, whether it comes to having to deal with finances, worry about job security, face issues within your family life, staying on top of endless tasks and duties, and much more. So it makes sense why we would avoid the news that adds to that stress given its seeming hopelessness, and instead, settle for non-journalistic approaches to the news that point out the issues that others face, often amplified due to the spotlight.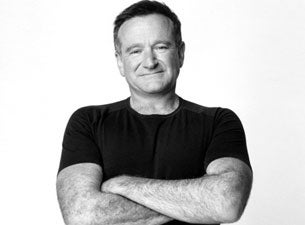 Robin Williams, famous for many movies and TV shows, took his life at age 63.
One such case is Robin Williams, a certified comic legend who has been in show business for over 36 years. He was truly hilarious and off-the-wall, and always found ways to make people laugh. Yet, despite his big personality and his huge smile, he was a man that battled many demons throughout his life, from drug addiction to alcoholism to divorces and depression. In the news of his apparent suicide, millions of people have poured out their love for a man they did not even know but who made them smile, laugh and feel better about themselves, like in this case. It has also been an opportunity to look back and see the signs that were there all along with him. We pray for him and his family in these tough times.
Chris Farley in the classic martial arts epic, "Beverly Hills Ninja"
You see, it is unfortunate to say, but it is not untypical for someone known for being so fun and outgoing to be so hurt and lonely. One of my favorite Saturday Night Live actors, Chris Farley, is another example of a popular comedian who went down a bad path of drugs and vices, dying young and alone. But many don't know that he went to Church often and apparently, he died with a rosary in his hand. I mention this not to make a point about his being Catholic or to speculate where he was in his faith life, but rather to make the point that he was no different from you or me in his desire to be loved. Clearly, he was seeking hope in a (seemingly) hopeless situation.
Whether we are talking about the celebrities all over the tabloids that we can't seem to get away from, or the quiet kid from elementary school that didn't have many friends, we are talking about people who not only desire to be loved, but deserve to be. God made us to love, and it is in loving that we come to see Him more clearly. It is in seeking to serve the other, not yourself, that we can come to know what Christ intended for us when he gave his life for us in the most selfless act in history. For unlike us, he didn't do anything to deserve harm and yet he took it all on just so that we had the hope for eternal salvation.
The Crucifixion, the greatest act of love in History.
Christ loves us more than we can ever comprehend, and yet, many become blind to it, only seeing how others see them or never finding that truest form of love they were looking for. In a society that feeds off of bad news or the faults of others, let us be among those that stands up for the "Good News". May we have courage to seek justice and fight for those in need.
Let us be the light that shines for those in the darkness. Let us be present for our kids in their times of turmoil and in their times of joy; let us show the ones we love a reason to smile; let us serve the hungry some good food (just check out my recipes on www.gracebeforemeals.com/recipes. J/K); let us tell people about the love of God for it is everything we yearn for and so much more.
Please say a prayer for all of those who are hurting right now, for all of those who are so deeply wounded, for all of those who are lost and say they don't want to found, for all those being persecuted and who are suffering. Say a prayer for those in the darkness, that they may see the shining light of God's face. And may we show people that there is hope in the hopeless, that there is courage to face the evils out there, and that there is love to be shared.
If you are among those in need of help, please be in touch with your local priest, doctor or check out this page (http://www.suicidepreventionlifeline.org/) to find the help that you need.
REMINDER: My pilgrimages to Napa Valley and to the Holy Land still have some available spots, so register today and join in on the amazing spiritual and culinary journeys that lay ahead. [UPDATE: No longer available, but see other pilgrimages that are by visiting http://gracebeforemeals.com/news/browse/category/pilgrimages]
SUBSCRIBE, LIKE, COMMENT & SHARE!
Any submissions may be used in future Grace Before Meals publications.
Posted in Food for the Soul, Food for Thought, In Memory, What's On the Table | 6 Comments »